The minimum system requirements for installing Data Doctor Recovery Pen drive Software are:
Pentium-class processor
Windows 9X/ME/NT/2000/XP/VISTA
RAM (128 MB recommended)
20 Mb of free space
You can view the version information on right clicking the setup of data recovery software
The version information covers the following details:
Comments
Company
File Version
Internal Name
Language
Legal Trademarks
Original file name
Private built description
Product Name
Product version
Special build description
Before you install data doctor Pen drive data recovery Software on Computer, it's very important for you to complete the following listing:
Before running the pen drive data recovery software make sure that pen drive is attached to the USB port of your computer.
Do not install Pen drive Data Recovery Software on the Bad windows Disk. Always install the Software on the healthy disk
Close all other applications to improve performance during installation.
After purchasing the software you will receive mail from our sales department regarding your activation key for the software. When you run the software for first time it will ask for product key for the software activation.
Enter the keys in the dialogue box to activate the software
If you lose your software, or product key mail us at support@datadoctor.in
Data Doctor Pen drive's recovery Software can be started in the following steps:
In Windows, Click the Start button.
Click on Programs
Scroll to Data Doctor Recovery-Pen drive & click on it.
Pen drive Data Recovery Software screen appears as follows: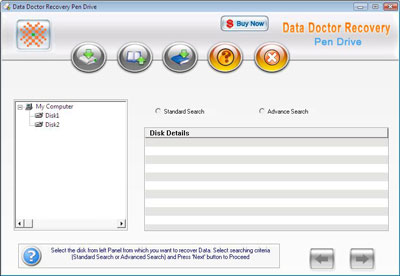 After installing the Software desktop shortcut icon is created from where too pen drive data recovery software can be launched.