Human Error
Human Error is the single largest contributor of Data loss instances. Generally, most of the cases have been noticed of Data loss are due the mistakes made by the user or employees of the organization in protecting the data or while handling the data. This includes accidental file deletion, incorrect usage or sometimes as serious as a Hard Disk Format.
For example it is possible that the employee who is not having the proper knowledge of handling the sensitive data or the software that is if used in lack of knowledge may harm the data and lead to data loss. Also some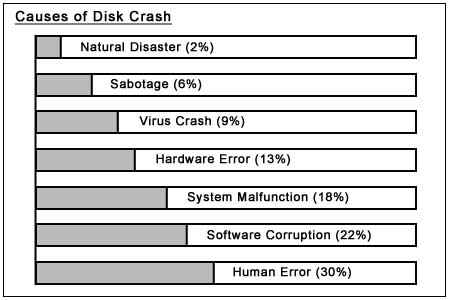 personal computer users have a tendency to execute any unknown software to know what it does without studying or without getting the information about its application and if the software has been developed for any task such that if illegally used may destroy the data partially or completely. It is also true for the executable files of virus like programs. Common human errors include:
Accidental drive format
Erroneous file or folder deletion
Administrator mistakes
Mishandling of storage devices
Trauma caused by drop or fall
Lack of knowledge while using disk partitioning or troubleshooting software etc.
Illogical operating system installation/upgrading
Illegal power management or temperature settings in the setup system of the computer.
Sample Chapters from book DATA RECOVERY WITH AND WITHOUT PROGRAMMING by Author Tarun Tyagi

Publishers of the Book
Number of Pages
ISBN
Price of the Book



BPB Publications, New Delhi, India
540
81-7656-922-4
$69.00 (Including Shipping Charges, Cost of Book and Other expenses, Free Source Code CD included with the Book)