A modern hard disk has a floating height of 0.5 micro inches and even human hair has a thickness of over 2,000 micro inches that 's why keeping dirt out of the hard disk is so important. It is actually quite amazing how close to the surface of the disks the heads fly without touching. Dust Particle, Finger Print even a smoke particle is a big problem for the head of a hard disk.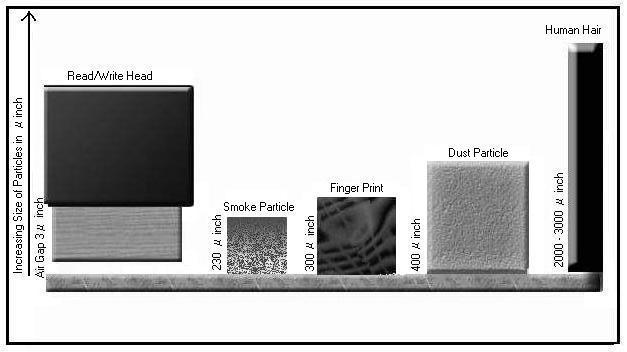 When the areal density of a drive is increased to improve capacity and performance, the magnetic fields are made smaller and weaker. To compensate, either the heads must be made more sensitive, or the floating height must be decreased.
Each time the floating height is decreased, the mechanical aspects of the disk must be adjusted to make sure that the platters are flatter, the alignment of the platter assembly and the read/write heads is perfect, and there is no dust or dirt on the surface of the platters. Vibration and shock also become more of a concern, and must be compensated for.
This is one reason why manufacturers are turning to smaller platters, as well as the use of glass platter substrates. Newer heads such as GMR are preferred because they allow a higher flying height than older, less sensitive heads, all else being equal.