Eine moderne Festplatte hat eine sich hin- und herbewegende Höhe von 0.5 Mikroinches und sogar hat menschliches Haar eine Stärke von über 2.000 Mikroinches, die ist, warum, Schmutz aus der Festplatte heraus zu halten so wichtig ist. Es ist wirklich ziemlich erstaunlich, wie nah an der Oberfläche der Scheiben die Köpfe fliegen, ohne sich zu berühren. Staub-Partikel, nehmen sogar von einen Rauchpartikel ist ein grosses Problem für den Kopf einer Festplatte Fingerabdrücke.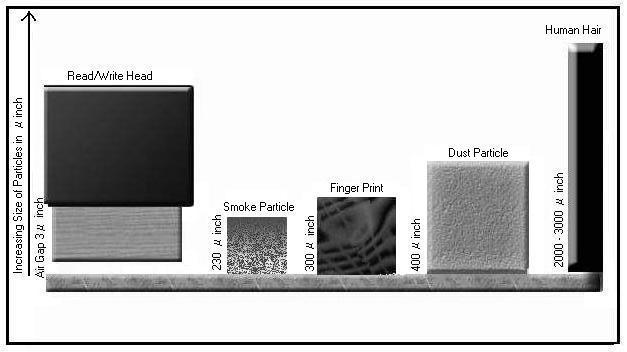 Wenn die areal Dichte eines Antriebs erhöht wird, um die Kapazität und Leistung zu verbessern, werden die Magnetfelder kleiner und schwächer gebildet. Um auszugleichen, entweder die Köpfe müssen empfindlicher gebildet werden, oder die sich hin- und herbewegende Höhe muß verringert werden.
Jedesmal wenn die sich hin- und herbewegende Höhe verringert wird, müssen die mechanischen Aspekte der Scheibe justiert werden, um zu überprüfen, ob die Servierplatten flacher sind, die Ausrichtung der Servierplatte und die Lese-Schreibköpfe ist vollkommen, und es gibt keinen Staub oder Schmutz auf der Oberfläche der Servierplatten. Erschütterung und Schlag werden auch mehr eines Interesses und müssen entschädigt werden.
Dieses ist ein Grund, warum Hersteller an kleinere Servierplatten wenden, sowie den Gebrauch der Glasservierplattesubstrate. Neuere Köpfe wie GMR werden, weil sie eine höhere Fliegenhöhe als die älteren gewähren, weniger empfindlichen Köpfe bevorzugt, alles sonst Sein gleich.
Sample Chapters from book DATA RECOVERY WITH AND WITHOUT PROGRAMMING by Author Tarun Tyagi, translated using machine translation. See original English contents on Data recovery book pages.

Publishers of the Book
Number of Pages
ISBN
Price of the Book



BPB Publications, New Delhi, India
540
81-7656-922-4
$69.00 (Including Shipping Charges, Cost of Book and Other expenses, Free Source Code CD included with the Book)