현대 하드 디스크에는 0.5 마이크로 인치의 뜨 고도가 있고 사람의 모발 조차 하드 디스크에서 먼지를 지키는 것이 아주 중요한 지 왜 인 2,000의 마이크로 인치 이상의 간격이 있다. 그것은 디스크의 표면 거의 머리가 만지기지 없이 나는 방법 실제로 확실히 굉장하다. 먼지 미립자, 지문은 연기 입자 조차 하드 디스크의 머리를 위한 큰 문제이다.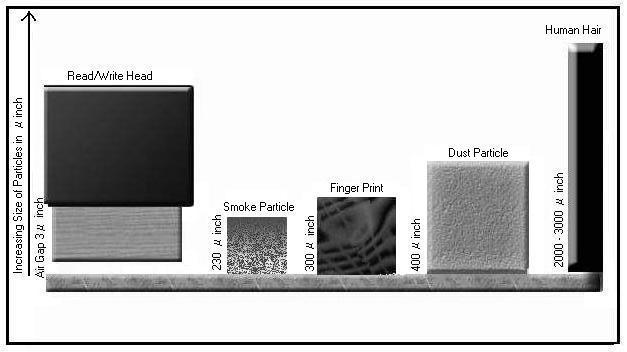 수용량과 성과를 개량하기 위하여 드라이브의 면적 조밀도가 증가시킬 때, 자기장은 더 작고 그리고 더 약하다 한다. 보상하기 위하여는, 머리가 더 과민한 해야, 뜨 고도는 줄어야 한다.
뜨 고도가 줄 때마다, 디스크의 기계적인 양상은, 큰접시 집합의 줄맞춤 큰접시가 더 편평하다는 것을 확인하기 위하여 조정되어야 하고 읽기/쓰기 머리는 완전하, 큰접시의 표면에 먼지 또는 먼지가 없다. 진동과 충격은 또한 관심사의 더 많은 것이 되고, 보상해야 한다.
이것은 유리제 큰접시 기질의 사용 뿐만 아니라 제조자가 더 작은 큰접시로 돌고 있는지 왜 1가지의 이유 이다. GMR와 같은 더 새로운 머리는 더 오래되고 허용하기 때문에 보다 적게 과민한 머리, 동등한 모두 보다는 더 높은 비행 고도를 좋아한다.
Sample Chapters from book DATA RECOVERY WITH AND WITHOUT PROGRAMMING by Author Tarun Tyagi, translated using machine translation. See original English contents on Data recovery book pages.

Publishers of the Book
Number of Pages
ISBN
Price of the Book



BPB Publications, New Delhi, India
540
81-7656-922-4
$69.00 (Including Shipping Charges, Cost of Book and Other expenses, Free Source Code CD included with the Book)