Een cilinder is fundamenteel de reeks alle sporen alle hoofden momenteel waarbij worden gevestigd. Als een schijf vier schotels heeft, in het algemeen zou het geval het acht hoofden hebben. Veronderstel nu het cilinders nummer 720 heeft.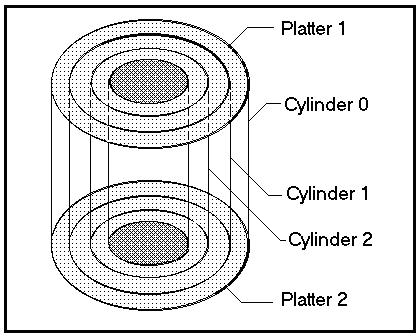 Het uit de acht reeks sporen, worden samengesteld per schoteloppervlakte met sporen nummer 720. De naam komt uit het feit dat deze sporen een skeletachtige cilinder vormen omdat zij gelijk-gerangschikte cirkels stapelden één bovenop andere in ruimte zijn, zoals aangetoond in het voordien gegeven cijfer.
Het richten van de factoren van de schijf wordt traditioneel gedaan door naar cilinders, hoofden en sectoren (CHS) te verwijzen.

Sample Chapters from book DATA RECOVERY WITH AND WITHOUT PROGRAMMING by Author Tarun Tyagi, translated using machine translation. See original English contents on Data recovery book pages.

Publishers of the Book
Number of Pages
ISBN
Price of the Book



BPB Publications, New Delhi, India
540
81-7656-922-4
$69.00 (Including Shipping Charges, Cost of Book and Other expenses, Free Source Code CD included with the Book)