Een moderne harde schijf heeft een het drijven hoogte van 0,5 micro- duim en zelfs heeft het menselijke haar een dikte van meer dan 2.000 micro- duim die ' s waarom wegblijven van vuil van de harde schijf zo belangrijk is. Het is eigenlijk vrij verbazend hoe dicht bij de oppervlakte van de schijven de hoofden zonder het raken vliegen. Het Deeltje van het stof, de Druk van de Vinger zelfs een rookdeeltje is een groot probleem voor het hoofd van een harde schijf.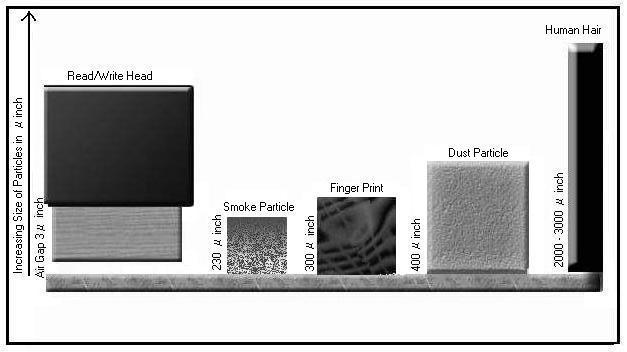 Wanneer de gebiedsdichtheid van een aandrijving wordt verhoogd om capaciteit en prestaties te verbeteren, worden de magnetische velden gemaakt kleiner en zwakker. Om te compenseren, of de hoofden moeten gevoeliger worden gemaakt, of de het drijven hoogte moet zijn verminderd.
Elke keer is de het drijven hoogte verminderd, moeten de mechanische aspecten van de schijf worden aangepast om ervoor te zorgen dat de schotels vlakker zijn, is de groepering van de schotelassemblage en de lees-schrijfhoofden perfect, en er zijn geen stof of vuil op de oppervlakte van de schotels. De trilling en de schok ook worden meer van een zorg, en moeten worden gecompenseerd.
Dit is één reden waarom de fabrikanten aan kleinere schotels, evenals het gebruik van de substraten van de glasschotel draaien. De nieuwere hoofden zoals GMR hebben de voorkeur omdat zij een hogere het vliegen hoogte dan oudere, minder gevoelige hoofden toestaan, al de rest die gelijk is.
Sample Chapters from book DATA RECOVERY WITH AND WITHOUT PROGRAMMING by Author Tarun Tyagi, translated using machine translation. See original English contents on Data recovery book pages.

Publishers of the Book
Number of Pages
ISBN
Price of the Book



BPB Publications, New Delhi, India
540
81-7656-922-4
$69.00 (Including Shipping Charges, Cost of Book and Other expenses, Free Source Code CD included with the Book)