Um cilindro é bàsicamente o jogo de todas as trilhas que todas as cabeças estão encontradas atualmente em. Se um disco tivesse quatro platters, no caso geral teria oito cabeças. Supôr agora que tem os cilindros número 720.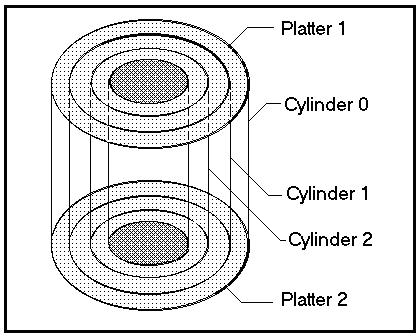 Seria composto oito do jogo de trilhas, um por a superfície do platter com trilhas número 720. O nome vem do fato que estas trilhas dão forma a um cilindro esqueletal porque são círculos igual-feitos sob medida empilharam um no alto do outro no espaço, como mostrado na figura dada antes.
Dirigir-se dos fatores do disco é feito tradicional com referência aos cilindros, às cabeças e aos setores (CHS).

Sample Chapters from book DATA RECOVERY WITH AND WITHOUT PROGRAMMING by Author Tarun Tyagi, translated using machine translation. See original English contents on Data recovery book pages.

Publishers of the Book
Number of Pages
ISBN
Price of the Book



BPB Publications, New Delhi, India
540
81-7656-922-4
$69.00 (Including Shipping Charges, Cost of Book and Other expenses, Free Source Code CD included with the Book)